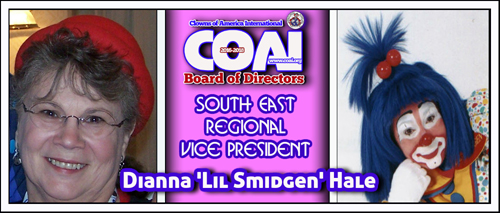 Dianna 'Lil' Smidgen' Hale
(256) 309-1153
dhale5@att.net
1013 Way Thru The Woods
Decatur, AL. 35603-1283
ALLEY 97 CALOOSA CLOWNS
President: Michele Ayers
239-464-1475
1863 Whitecap Circle
North Fort Myers, Florida 33903
New meeting place: Atrium Mall North Fort Myers, Florida
ALLEY 159 KRACKERJAC CLOWNS
Meets at Church of the Palms • 1960 N. Swinton Ave, Delray, FL
Alley is temporarily closed
ALLEY 179 The Villages Clown Alley 179, Inc
President: Pat Reilly
352-259-2281
Patbutchr@yahoo.com
471 Arbella Loop
The Villages,Fl 32162
Meets at Savannah Center, The Villages
Monday's at 9am, 1st Monday of month is for members only.
ALLEY 194 CLOWNS GALORE
President: Revonda Anderson
727-733-1338
vondie@tampabay.rr.com
1917 Pinehurst
Clearwater FL 33763
Meets on 3rd Monday at St. Mathias Lutheran Church, 2751 Sunset Point Road
ALLEY 242 CLOWN TOWNERS
President: Carol Anderson
352-796-2825
carolaander22@gmail.com
P.O. Box 777
Port Richy, FL 34673
Meets on Thurday night once a month during the winter at 15466 Sonora Dr., Brooksville, FL
ALLEY 263 MAGIC TOWN CLOWNS
President: Clydene Dyer
205-515-4751
iyq2kitty@yahoo.com
magictownclowns@yahoo.com
2800 Metropolitan Way Hoover AL 35243 – 1st Thursday
ALLEY 288 FUN WORLD CLOWN ALLEY, INC.
President: Ron Jaffe
407-256-0904
funworldclownalley@gmail.com
812 E. Anderson St
Orlando, Fl 32801
Meets the 3rd Monday at Reformation Lutheran Ch. 800 E. Michigan St., Orlando 32806
ALLEY 296 TOBY'S CLOWN ALLEY
President: Darrel Jingst
863-991-5353
stringbean4haha@yahoo.com
109 W. Interlake, Blvd.
Lake Placid, FL 33852-9648
ALLEY 300 PEACHTREE CLOWN ALLEY
Connie Davis
770-4493533
upcdaisy@comcast.net
clowncalledbabycakes@yahoo.com
6633 Swift Creek Road
Lithonia, GA 30058
Meet: Doraville Baptist Church 5935 New Peachtree Rd., Doraville 3rd Tuesday
ALLEY 303 CLOWNS LIKE US
President: Barbara Waters-Riddle
941-468-6762
btnuzzles@aol.com
2800 Kiskadee Dr
Englewood, FL 34224
Meets on Wednesdays at Englewood Hospital – 700 Medical Blvd, Englewood, FL
ALLEY 348 TIDEWELL HOSPICE CLOWN CIRCLE
Chairman: Betty Palsgrove
941-729-2452
bpals007@verizon.net
8115 Woodlawn Circle
S Palmetto, FL 34221
Meet on the 4th Monday at 3550 South Tamiami Trail, Sarasota, Florida They work for Tidwell Hospice.
ALLEY # 399 RED NOSE RESPONSE, INC.
President: Paul Kleinberger
518-489-2680
fuddiduddy@aol.com
2660 Peachtree Rd. N. W. Suite 19a
Atlanta, GA 30305
rednoseresponse.org
monthly teleconference Sunday
ALLEY 400 THE CLOWN KREWE
Boyd Smith
813-404-7438
ljdoglutz@aol.com
P.O. Box 1122
Port Richey, FL 34673
theclownkrewe.com
Marchman Tech. Ed. Cntr. 7825 Campus Dr., New Port Richey – Tuesday
ALLEY 409 FUN-N-SUN CLOWN ALLEY
President: Valecia Parker
352-288-1258
cheex2@yahoo.com
Meets: Lake Square Mall, Community Room 10401 U.S. Hwy 441, Leesburg, FL Wed
ALLEY 413 ALLIGATOR ALLEY
Temporarily Closed
ALLEY 415 SECA ALLEY
President: Robin Bryan
352-316-6556
5845 Oakland Drive
Jacksonville, FL
Meet twice a year at 350 South Northlake Blvd. Altamonte Springs, Florida (SECA Annual Convention)
ALLEY 417 LAKE REGION RASCALS
President: Charlene Link
863-439-0209
bizzyno1@yahoo.com
Meets at 270 Pelican Lane, Hanes City, FL
Alley 426 GATOR CLOWNS
President: Bill Gillespie
gypsyfriend937@gmail.com
1371 Akon Oaks Drive,
Orange Park, FL
www.gatorclowns.com
Meet at: Englewood Christian Church 4316 Barnes Road South Jacksonville, Florida 32207 Fist Thursday of each month at 7:00 PM
ALLEY 428 CLOWNING 4 HIS GLORY
President: Lori Theodoras
205-807-4945
clowning4Hisglory@google.com
1977 Cahaba CV
Hoover, AL 35244
Meets 3rd Thursday Margarita Grill 234 Cahaba Valley Road Pedham. AL 35124