The Ring of Honor is a new type of recognition presented by Clowns of America International to members who have passed away but have made a significant difference within our organization. The Ring is a tribute to those who have stood out undeniably as a member, guided our organization to new standards by their leadership, or have brought about a profound distinction in the world of clowning and COAI.
For more information Contact:
Teresa "Blondi" Gretton
3411 Lisa Circle
Waldorf, MD 20601
(301) 843-8212
tgretton@comcast.net
RING OF HONOR RECOGNITION
The Ring of Honor is a new recognition presented by Clowns of America International (COAI) to members who have passed away. The recipients must have made a significant difference within COAI. The Ring of Honor is not simply an extension of the "last walk-around;" it is a tribute to those who have stood out undeniably as a member, guided our organization to new standards by their leadership, or have brought about a profound distinction in the world of clowning and COAI. Simply put, the Ring of Honor is a small group of very special people whom we have been lucky enough to have had as members and leaders of COAI.
Any COAI member can recommend a nominee for consideration. COAI will consider nominations for the Ring of Honor at the spring board meeting. All nominations should be sent to the COAI membership director to be reviewed by committee. The committee will recommend up to three (3) inductees per year, who are then presented to the COAI Board for ratification.
ELIGIBILITY CRITERIA
The Ring of Honor criteria is very simple: The nominee must have been a member in good standing of COAI before passing. The nominee must have stood out undeniably as a member, made a significant difference within our organization, lead COAI to new standards or brought about a profound distinction in the world of clowning and COAI.
NOMINATION PROCEDURE
Nominations must be in the hands of the Membership Director by February 1 to be considered at the spring board meeting. Nominations can be sent by mail or email. Must include a picture(s) of nominee either in clown, out of makeup or both. All questions should be referred to the Director of Membership.
Teresa Gretton
COAI Director of Membership
tgretton@comcast.net
Inductees to date:
1. Dennis 'Dusty/Hoho' Phelps (Inducted April 28, 2012)
2. Pat 'Pitter-Pat' Newton (Inducted April 28, 2012)
3. Hal 'Shorty' Horton (Inducted April 20, 2013)
4. Raymond (Lou) 'Lou-Bo' Walston (Inducted May 3, 2014)
5. Cal 'Calico" Olsen (Inducted April 25, 2015)
6.Hunter 'Mr. Boots' Stevenson (Inducted April 8, 2016)
7.Bob 'Rags' Stanek (Inducted April 29, 2017)
8. Frank 'Kelly' Kelly (Inducted April 29, 2017)
Dennis "Dusty/Ho-Ho" Phelps
Inducted April 28, 2012
It is COAI's honor to introduce the very first inductee to the COAI Ring of Honor.
His name is Dennis (Ho-Ho/Dusty) Phelps; nominated by Bob (Bunky) Gretton. Dennis was one of the founding members of COAI. He held various positions on the COAI Board; executive vice-president, directorships and was the third president of our organization. He was recognized as a master balloon artist, stage performer and a fantastic teacher, always willing to share his talents with other clowns. Dennis was an excellent mentor in the clowning world, taking the time at conventions to give a helping hand to anyone in need. Dennis had enjoyed participating in the Milwaukee's Great Circus Parade. During those years, he became friends with TV and movie star, Ernest Borgnine who himself is a lifetime COAI member #14306. Before the parade, he would help Mr. Borgnine apply his clown makeup and get in character. Dennis was an outstanding leader; he faced the challenge of trying to make COAI stronger by getting it financially sound, a feat he accomplished very quickly and very well. He then found ways of getting the membership involved and fulfilling their needs, through the use of education. To that end, he was accredited with doubling the membership during his two years as president, which is unprecedented.
Dennis was a mentor to many clowns including the nominator (Bob Gretton) who added the following wonderful remembrance of Dennis:
"Dennis had two clown characters, Ho-Ho (Auguste) and Dusty (Hobo). In 1988, COAI held its annual convention in Denver, CO. Giving the convention a different twist, the makeup competition was held at a local mall. The judges were not clowns; they were civic leaders including the mayor of Denver and the field goal kicker from the Denver Broncos. The day before the competition, Dennis asked me if I was going to compete. I told him I had not brought my costume or makeup. Seeing we were the same size, Dennis confided that he had always wanted to see how it would be if he could do both of his characters in competition. He suggested I dress as Dusty and he as Ho-Ho. Dennis had a straw broom that he used as his hobo prop. He had cut the center out of the straw so the broom would stand up straight by itself. I walked out in front of the judges and the crowd sweeping the stage. At the last second, I let go of the broom and did a double take as I looked back and saw it standing straight up by itself. I turned to the judges and walked off the stage. After completion of the competition, they announced the winners. When it came to third place, they called my name! "Ho-Ho" did not place. I was awarded the trophy. I will always look at that trophy and think of the kindness of Dennis Phelps."
All of us at COAI would like to thank Dennis for all that he did for COAI and the art of clowning throughout his life. To that end, we award the inaugural induction of the Clowns of America International Ring of Honor to Dennis (Dusty / Ho-Ho) Phelps.
If you have any special remembrances of Dennis, please email them to Glenn (Clyde D Scope) Kohlberger at soundsfunny2me@aol.com and we will post them on the website www.coai.org on the Ring of Honor page for all to share.
Pat (Pitter-Pat) Newton
Inducted April 28, 2012
The second inductee into the Ring of Honor
nominated by Paul Kleinberger.
While there are several past and present COAI Board members and members of the clown community at large who can attest to Pat's skill and performance as a clown and as a face painter, I think it is worthy of note that from the initial moments she was selected to be the editor of The New Calliope, she threw herself in to her responsibilities and became a champion of both Clowns of America International (COAI) and its membership. As editor she took what was considered to be a great publication and made it wonderful and a real resource for the individual COAI member. Along with being the Calliope Editor, Pat assumed responsibility for the COAI web site. Combining her imagination and vision she moved the web site forward from a general information site to a working membership site supporting COAI members by offering many opportunities to the membership and the public interested in the clown arts. There is no doubt that Pat was an awesome face painter. Pat developed and cultivated the face painting competitions hosted by COAI at our annual conventions along with the help of several COAI board members. She was the creative force that encouraged her family to get involved with the art of clowning and spurred her community on to support Circus Sarasota and all that it accomplishes. Simply stated, Pat was a dynamic bundle of energy within the clown community who impacted everyone positively. She left us too soon.
If you have any special remembrances of Pat, please email them to Glenn (Clyde D Scope) Kohlberger at soundsfunny2me@aol.com and we will post them on the website www.coai.org on the Ring of Honor page for all to share.
From Mark Renfro:
I want to share a memory of Pat Newton. Several years ago at some clown/facepainting affair, our paths crossed. Pat impressed me as someone who really knew her stuff. I decided to sit in on one of Pat's classes. As it turned out I was the only male in her class and i had to step up and sit in her painting chair when the topic of boy designs vs. girl designs came up. I've forgotten what she painted on my cheeks but I'll always remember what happened when she finished and wanted to add some glitter. "No," I said. "Boys don't like glitter." Pat got a good laugh when she replied, "I don't use girl glitter. This (indicating the container in her hand) is man glitter!" So that was that. I was right. Pat Newton really did know her stuff and I'm glad I sat in on her class. Here's the punch line; A few days after returning home, I received a small package in the mail. It was from Pat. I had no idea what it could be so I opened it quickly. It was a small container of glitter (I think it was the same one she used in her class). On the top was a label she had printed out. It said, "Mark's Man Glitter." Also inside was a small note encouraging me to spread it around. "When the world gets you down, cover it in man glitter." The years have gone by and it was only after Pat began her unfortunate journey that I heard she was ill. Then came the sad news of her passing. Well, I do still have that small jar. I long ago used all of the original contents and the container has gone through several refills. The label is a little worse for wear but I treasure that container and it always finds a prominate place on my facepainting table. And when I have a boy who is hesitant about adding sparkles, I pick it up and show him: "It's OK. This is Man Glitter." I didn't get to know Pat really well although our paths did cross a couple of time since that first class. It was always nice to see her in the hallways when we happened to be on the same slate. In some ways, I have always felt she was a kindred spirit. I'm sorry she died so young. She was right about one thing: There are moments when a little bit of glitter can make the world a better place! I'm reminded of that each time I open my jar of "Man Glitter."
Hal "Shorty" Horton
Inducted April 20, 2013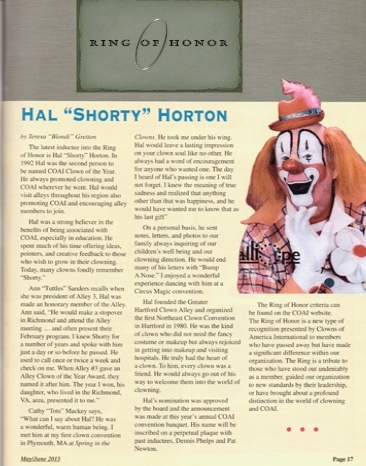 Raymond (Lou) 'Lou-Bo' Walston
(November 1, 1923 to June 4, 2005)
As nominated by Keith E. Karas, President, Free State Clown Alley #30
This recognition is fitting as Lou's tireless leadership was instrumental during the formative years of Clowns of America, an organization which was the predecessor to Clowns of America, International. A clown himself, Lou "Lou –Bo" Walston was a serious student of the art of clowning and of magic, and successfully combined these skills to the delight of children and adults. He held the distinction of being a card carrying, dues-paying member #7 of COA/COAI.
During the 1950's through 1970's, most people interested in clowning had limited resources in which to learn about the art of clowning. What knowledge could be obtained was often passed don secretly from clown to clown. Lou emerged as a leader of this early clown movement, providing aspiring, well-intentioned clowns with performance lessons and a basic framework of tradition, structure, and professionalism on which to build their clowning. While Lou would be the first to admit that he did not do this alone, he was a key to harnessing the clowning talent which existed at the time and encouraging them to share their expertise for the good of the art.
Long before the concept of "mentor" became fashionable, Lou served as a role-model, assessor, leader, and guide to many aspiring clowns. Those who "apprenticed" under his watchful eye went on to be well-established clowns in their own right in television, circuses, and the birthday party/family entertainment business.
Lou was one of the first to recognize the importance of improving the image of those interested in semi-professional clowning, and developed a partnership in the 1970's with Dundalk Community College/Towson State University to present a continuing education clown course. This course received much publicity iand its success drew excitement from other clowns in neighboring states as they designed similar courses in their communities.
Lou also recognized that clowns enjoy sharing their talent with other like-minded professionals, and as such helped host the first Clowns of America Convention in Baltimore, Maryland. As the organization grew, Lou supported the efforts to hold the first-ever convention outside the continental United States (in Puerto Rico). The clown conventions we know today had their start under Lou's leadership, and they retain many of the same elements we know today such as workshops, dealer's room and banquets featuring live clown comedy entertainment. Lou also spearheaded the concept of regional conventions, and his "The Big Three," became a well-attended regional affair allowing those in the Mid-Atlantic Region an opportunity to benefit from professional clown classes and competition. Rounding out Lou's influence in clowning would be his ownership for many years of the Fun House Magic Shop, for many years one of the few shops in the nation catering to clowns. While the physical location of the shop changed over the years, Lou used this brick and mortar establishment to stock professional clown and magic supplies, invite special guest lecturers to perform/speak when they were in the area, and serve as a sort of "clown cave" where clowns could "drop-in" to talk about the art of clowning.
Lou also recognized the benefit which clowns could provide for charitable organizations. He encouraged and led efforts in offering benefit performances and hospital visits, especially for those where clowns could provide a smile to children.
In summary, while Lou would describe himself as just a clown from Maryland, his reach and influence was felt far beyond the state borders. His foresight, leadership, and steady influence helped shaped the early structure of clowning organizations and contributed immensely to the spirit of sharing our art with others which we enjoy today.
CAL 'Calico' OLSEN
(Inducted April 25, 2015)
Nominated by Bob Gretton
"A Naval aviator, Photographer, Prize winning reporter, Clown, Editor, President of the National Press Photographers Association," are all very honorable accolades that have been said of a past New Calliope editor named Cal "Calico" Olson; but in my opinion, Cal's most important feat was in administering to clowns everywhere by his professional talents as a newspaper man.
From 1988 until 2005, Cal created a magical world for members to view and read through The New Calliope. He kept the lines of communication open among members within Clowns of America International, and he made it a joy to receive the latest happenings and educational opportunities. His ability to produce, write, edit, review, report, display, sell ads, and make deadlines was truly the artwork of a passionate professional.
Cal had a personality that could bring out the greatest laugh and smile and when necessary he could argue a point that would find it very challenging to prove otherwise. He once told me, "I'm just an old newspaper man. I'm a reporter not a writer." Yet, Cal had no loss for words when it came to writing. As editor, he always had a knack for words and ways to report the happenings of the board meetings and membership meetings. He insisted on informative and entertaining articles. He polished many articles that were written with attached notes pleading that they were not writers but found it important to tell their stories.
Cal enjoyed the annual COAI conventions acting as photographer. He made sure that his photos would tell the story of each convention and that there was one great photo for the cover. He delighted in photographing the poses from the different award-winning makeup and parade-ability categories. COAI conventions for Cal were a time to play and form lasting friendships. He always had a beaming face when taking photos. Each year at the convention banquet, he enjoyed giving the Best of the Press award (one he created) to the best alley newsletter.
Cal Olson's professional background goes back to 1950 where he worked at the
Forum in Fargo, ND, and advanced to Managing Editor in the early 1970s. Cal was named Editor of the Sioux City, IA, Journal in 1978, from which he retired in 1989. According to an article written about Cal in The New Calliope, his story of becoming editor of The New Calliope goes like this: "I backed into it. In 1988, I'd been a Shrine Clown for about five years. At that time the editor of Clown Alley, the Shrine Clown publication, had retired and I applied for the job. But, the new Clown Alley editor already had been named, and so I kissed that off. However, that editor knew COAI was looking for a new editor since Ruth Erkkila was resigning. He got in touch with then COAI President, Hunter Stevens. Hunter, in turn, called me and asked me to apply. I'd never so much as heard of either COAI or The New Calliope. I got hold of a couple copies of the magazine, sent my application to Hunter and away I went. At the same time I sent in my application for Calliope Editor, I applied for membership in COAI."
As a new clown on the block he spent much time at clown conventions and seminars, to learn the art form through the lecturers. He did his editorial part by convincing the more informed clowns that they had something to tell all COAI members. Through time, he found a very nice array of clown writers who gave him plenty of articles about subjects that he also learned from.
Cal brought much more to the table with his work. With the magazine as the focal point of communications among all COAI members, he had to make sure that not only articles were informative and educational but also that all upcoming activities were mentioned. It had to be an educational tool to read The New Calliope. It had to interest the full gambit of clowning, from the newbies to the middle of the road to the advanced and from the hobbyists to the professionals.
While he relied on members at large and board members to keep him informed of activities and events, he was a large influence in attending two board meetings a year and the general membership meeting at the COAI convention. He took great joy in letting the membership know of any magazine changes that would impact the production of The New Calliope. He was quoted as saying, "I have worked for a number of different audiences, but never enjoyed any as much as I did the clowns—MY clowns." That statement alone describes the joy he received from the inside world of COAI clowning.
COAI is very fortunate to have had such a passionate editor who learned more about the clowning art-form through his COAI calling as he put together time after time editions that taught, entertained, encouraged, and enlightened. "I was always proud that the COAI Board appointed me to the job eight times, and that I left by my own decision, since my mainspring was winding down."
Cal admits that parades were his favorite clown venues. His past included civic celebrations, county fairs, youth events, crazy days, etc. And most of them involved a parade. As a result, he had quite a supply of parade props.
"My philosophy is pretty basic: Keep it light, keep it moving, stay ahead of your audience, and NEVER let 'em see you sweat. If you can do that, the art form will take care of itself.".
In his 17 years as editor, Cal never missed a magazine deadline. It's a good thing because my wife and I waited to read each issue (cover to cover, line by line) and fighting over who would get to read it first and how long each had to read before the other grabbed it.
There is no question in my mind that Cal "Calico" Olson stood out undeniably as a member, made a significant difference within our organization, lead COAI to new standards AND brought about a profound distinction in the world of clowning and COAI
Hunter 'Mr. Boots' Stevens
(Inducted April 2016)
Hunter "Mr. Boots" Stevens, Jr. 1986-1988. Hunter became active in clowning circles when he helped organize the Midwest Clown Association in Oct 1974. "I helped form the organization because we members of (the old) COA had very poor communications and inter-action with the officers and board," he later wrote. "Maybe, if some day I could be president of COA, I could make it a truly national organization…I have worked toward these goals ever since."