(ME, NH, VT, MA, RI, CT, NY, NJ, PA)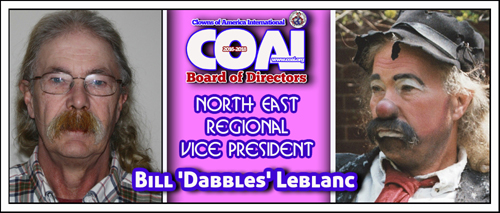 Bill (Dabbles) Le Blanc
508-378-1545
bildabbles@aol.com
2 Dee Jay Road
East Bridgewater, MA 02333
ALLEY 8 DELAWARE VALLEY CLOWNS
Bob Raker
610-647-1761
c/o Happy Heart Clown 'N Stuff
64 E. Uwchlan Ave. #403
Exton, PA 19341
ALLEY 17 GRIFFIN ALLEY CLOWNS
Susan Beetle
585-289-8226
mrwaltercrum@yahoo.com
P.O. Box 101
Shuntsville, NY 14548
Meet: Country Sides Restaurant 17 Clifton Plaza Clifton Springs 3rd Wed.
ALLEY 51 MERRI-MAKERS
President: Wendy Dulin
845-321-3487
frumpytheclown@yahoo.com
Meets 1st Tuesday at United Methodist Church at 903 S. Beverwyck Rd Parsippany, NJ
ALLEY 54 GREATER BOSTON COAI
President: Jon Hubbard
978-836-0177
jtheclown@verizon.net
42 Tremont St.
Salem, MA 01970-2223
Meets 292 Lafayette St. Salem, MA 2nd Tues
ALLEY 65 ERIE JOLLY JESTERS, Inc.
President: Camille Federoff
814-838-4147
funniefeathers@gmail.com
1112 Western Lane
Erie, PA 16417
https://www.facebook.com/eriejollyjesters
Meets 2nd Monday of the month at various locations
ALLEY 66 THE NEW SAWDUST CLOWNS
President: Cathy Pings
203-791-0126
gncp98@sboglobal.net
29 Cherry Hill Road
Fairfield, CT 06825
ALLEY 110 HAPPY VALLEY CLOWNS NE
President: George Jahn
518-286-3181
gljahn1@gmail.com
15 Benedict St
Castleton, N.Y. 12033-1001
Meets at S. W. Pitts Firehouse Hall 226 Old Louden Rd., Latham, NY on 3rd Monday
ALLEY 113 GREASE PAINT ALLEY CLOWNS
President: Cheryl Arnold
585-225-1315
littlefoot17@frontiernet.net
P.O.Box 26679
Greece, NY 14626
Meets at Greece Town Hall, 1 Vincent Tofany Blvd, Rochester, NY on Monday
ALLEY 159A SOUTH SHORE JOEYS
President: Maureen Yalenezian
781-293-5180
myalenezian@comcast.net
426 Indian Head St
Hanson, MA 02341
www.ssjoeys.com
Meets 1st Monday of the month at 426 Indian Head St, Hanson, MA on 1st Monday
ALLEY 181 CLASSIC CLOWN CLUB of JOHNSTOWN
President: Dale Webb
816-691-8896
dwitbme@comcast.net
51 Wesley Dr
Johnstown, PA 15904
Meets 1st and 3rd Wednesdays at 1425 Scalpe Ave, Johnstown, PA 15904
ALLEY 190 GRANITE STATE CLOWNS
Barbara Foristall
603-429-0099
grandgatherings@yahoo.com
9 Sundale Dr
Merrimack, NH 03054
ALLEY 225 PIONEER VALLEY CLOWNS
Mark Marrandino
203-230-2016
marradino30@sbcglobal.net
P.O.Box 10305
Holyyoke, MA 01041
ALLEY 232 CENTRAL MASS CLOWNS
Temp. Closed
ALLEY 240 POUND OF CLOWNS
Marie Persson
205-265-6447
rie@metrocast.net
28 Mullen Dr
Newton, NH 03263
ALLEY 285 ELECTRIC CITY CLOWN ALLEY
President: Janice Mastromarchi
518-915-5681
Getniftycl@gmail.com
2 Mapel Lane
North Londonville, NY 2211
electricitycityclownalley.com
Meet at Carman United Methodist Church 2350 Hamburg St. Schenectady Meets the 4th Wednesday every 2 months
ALLEY 287 TRI-RIVERS CLOWNS
President: Leslie McCartney
412-506-5694
lezlie@mail.com
615 West Main St
Pittsburgh, PA 15106
Meets the 3rd Mondy of the month at 608 Virgina Ave. • Pittsburg, PA
ALLEY 312 GOOD NEWS CLOWNS
President: Linda Pandolfo
860-873-8890
twoclowns02@comcast.net
18 Whitewood Drive
E. Haddam, Ct. 06423-1288
Meet: Trinity Lutheran Church 109 Main St. Centerbrook 1st Thursday
ALLEY 369 CAPITAL REGION CLOWN ARTS FESTIVAL
President: Miriam Kleinberger
518-438-0775
soto1014@aol.com
www.clownartsfestival.com
Meets 1st Sunday at 209 Old Loudon Rd. • Latham, NY
ALLEY 388 MID ATLANTIC CLOWN ALLEY
President: Sue Marranconi
814-547-4939
squeezeclown@yahoo.com
www.midatlanticclownassoc.com
Meets annually at MACA Convention
ALLEY 389 THE SMILE BRIGADE
815 School St
Collegeville, PA 19426
ALLEY 394 CORN E CLOWNS OF ERIE COUNTY
Rose Piazza
716-549-4196
rosiep273@peoplepc.com
98 Woodward Dr
West Seneca, NY 14224
ALLEY 395 CAMP SUNDOWN CLOWN ALLEY
President: Catherine Mackey
518-784-2127
ctots@aol.com
151 Route 28 B
Valatie NY 12184
ALLEY 399 RED NOSE RESPONSE,INC.
President: Jeremy Cohen
646-821-3111
rednosejeremy@aol.com
1013 Way Thru The Woods
Decatur, AL 35603
ALLEY 405 THE SMILE FACTORY
Elaine Vercellone
201-573-8971
vercello@opotonline.net
20 North Ave
Montvale, NJ
ALLEY 406 THE BATTENKILL JOEYS
President: Suzanne Shumway
518-796-9363
smshumway@battenkill.org
101 Langley Hill Rd
Greenwich, NY 32406
ALLEY 420 THE ERIESISTIBLE CLOWNS
President: Mike Zehner
814-397-4144
emerald@emeraldtheclown.com
512 Kelso Dr
Erie, PA
Erieclowns.com
Meets 512 Kelso Drive, Erie, PA on Thursday.
ALLEY 425 TOONTOWN KLOWNS
President: Brian "HotRod" Wike
814-515-9167
toontownklowns@gmail.com
1006 Lexington Ave
Altoona, Pa 16601
https://www.facebook.com/ToontownKlowns/
Meeting day: 2nd Saturday of the month.
Alley 427 LATINO CLOWNS of NJ`NY
President: Carlos Solis
201-709-3180
calisolis@hotmail.com
Meet 4th Monday at 7 p.m. Immigrant Movement International 108-59 Roosevelt Ave. Flushing, NY 11368