Arnie S. "Giggles" Firine
1984-1986

Hunter "Mr. Boots"  Stevens, Jr.
1986-1988

Dennis "Dusty" Phelps
1988-1990

Donald "Ski" Berkoski
1990-1992

Jack "Freckles" Anderson
1992-1994

Brenda "Flower" Marshall
1994-1998

Judy "Dear Heart" Quest
1998-2000

Cheri "Cherri-Oats" Venturi
2000-2006

Paul "Fuddi-Duddy" Kleinberger
2006-2008

Tom "Tommy-Boy" King
2008-2010

Pam "Bubbles" Bacher
2010-2012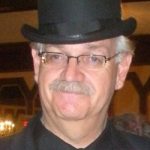 Glenn "Clyde D Scope" Kohlberger
2012- 2016

Mike "Bonkers" Cox
2016-Present
President Bios
Arnie S. "Giggles" Firine, 1984-86. Arnie, of New Haven, CT, was named to the presidency of the old Clowns of America in 1982, on the resignation of the incumbent president.When financial disaster sank COA, Arnie led a handful of dedicated clowns in the formation of Clowns of America International, and became its first president.He was a professional clown for 41 years, and in 1994 was named COAI Clown of the Year. He made his last walkaround June 17, 2004, losing a long and courageous battle with lung cancer.
Hunter "Mr. Boots" Stevens, Jr. 1986-1988. Hunter became active in clowning circles when he helped organize the Midwest Clown Association in Oct 1974. "I helped form the organization because we members of (the old) COA had very poor communications and inter-action with the officers and board," he later wrote. "Maybe, if some day I could be president of COA, I could make it a truly national organization…I have worked toward these goals ever since."
Dennis "Dusty" Phelps, 1988-1990. Dennis says he ran for the COAI presidency because "I was asked by several officers, since I had been serving as Executive Vice President and knew of the workings of COAI."His biggest problem, he says, "was making the organization stronger by getting it financially in order." A second challenge: getting the membership involved and fulfilling their requests and needs through education.His biggest satisfaction in the office? "Having the membership double in two years. The New Calliope was a big help, but most of all was the advice given to me by Hunter Stevens, Executive Vice President Betty Cash, and then-business Manager David Barnett."
Donald "Ski" Berkoski, 1990-1992. Don made his last walkaround Jan 19, 2001, in Indianapolis, Ind. He was 62.In addition to his COAI presidency, Don was founder of Smiles Unlimited Universal Clowns Ministry. In this capacity, he trained more than 5,000 clowns to reach hurting people.Don's funeral was attended by mourners who came in clown costume and make-up.
Jack "Freckles" Anderson, 1992-1994. Jack, a Jacksonville, FL native, is the only person who has served as president of the three major clown organizations: COAI, the World Clown Association, and the International Shrine Clown Association.He recalls that when he joined the old COA, "the meetings were all held in Baltimore, MD, and you had to live in the area to hold office. When COAI was founded this stopped and every one had the opportunity to hold office."His biggest problem as COAI President was the fact that the club "was flooded with talented people, and it was difficult to find jobs for all the folks who had a desire to help COAI."The biggest satisfaction in the job, he says, was reaching a membership of 7,000.He has formally retired from active clowning, although he continues to lecture and judge at clown conventions.
Brenda "Flower" Marshall, 1994-1998. Brenda, of North Richland Hills, TX, was the first woman to be elected COAI president, and the first to serve more than one term."I initially ran for COAI Secretary because I made a comment about how I thought that the job should be done, and then President Dennis Phelps challenged me to run for the job," she says. "I was surprised as anyone when I was actually elected. After serving with the Board for four years, I felt I had something to offer as President. When I found out that Jack Anderson was going to run for a second term, I was very nervous about my chances. And when the ballots were counted, there were only 11 votes that separated us."Her biggest problem as president? "There weren't many problems that we didn't work through pretty quickly. I guess the most frustrating thing for me was the lack of Board unity during my second term."Biggest satisfaction? "Programs that took their baby steps during our time in office. Judy Quest, who served as President following my terms, is truly a visionary and she introduced several programs to enhance what COAI offers to its members. Watching those programs take shape during our time in office was great fun."Brenda is still involved in clowning full time.
Judy "Dear Heart" Quest, 1998-2000. Judy, of Omaha, NB, says she ran for COAI President after eight years as the club's Treasurer, because she felt she "could provide leadership, especially in the area of education."Her biggest problem in the office? "People with good will on the Board had very different agendas as to what needed to be done."Biggest satisfaction? "When I was able to give the President's award for beautiful clown hearts."Judy is still involved in clowning. "My greatest satisfaction comes from watching a First of May get his/her first affirmation as a clown," she says."There's nothing like it, because it spreads the joy so much further by teaching others."Judy was named COAI Clown of the Year in 2008.
Cheri "Cherri-Oats" Venturi: 2000-2006. Having moved a number of times over the last few years, Cheri now resides in the St. Louis area. She holds the distinction of holding three consecutive terms as president of COAI. After serving several years on the board she decided to give back to the organization she had been a member of since the beginning of her personal clowning career. She felt it was important to bring people together with a common bond of the art they all love so much.Cheri's goal, during her three terms, was to update the way COAI conducted business and to establish a good working environment for the Board.
Paul "Fuddi-Duddy" Kleinberger: 2006-2008. As Paul became more and more involved in the art of clowning, the natural progression was to become more and more involved in COAI. He ran for the Executive Vice President position at the urging of several members who felt his skills would benefit the organization. After serving in that position for two terms he decided it was time to move up.His goal was to work on membership on many levels with the recognition that the members were looking for support in a number of areas. When asked what he felt he had accomplished, he replies, " A couple of things for me. Working with the editors of The New Calliope as it transitioned to being a more member and alley focused publication as well as bringing to the Board a sense of being a non-profit corporation with a mission to serve its membership, propagate itself and the art of clowning and steering a course in to the future with an understanding of the importance of marketing, both internal and external."
Tom "Tommy Boy" King, 2008 2010 Tom knew from the time he was in the fifth grade that he would be a clown. Though he's probably not sure whether he or the teacher knew first. Growing up in a small town, Tom became a full time entertainer. Over the years he has been active in COAI and came onto the Board as a Regional Vice President. He eventually ran for President because, "I love the art form. I love the thought and challenge of helping the art of clowning move forward. I feel the time has come for more teamwork and cooperation from all clown art groups and other entertainment organizations. I hope to leave a positive thumbprint on our organization." Tom was able to create a cooperative and team work environment in the boardroom and was instrumental in presenting the first ever Lifetime Acheivement Awards.
Pam "Bubbles" Bacher, 2010-2012
Glenn "Clyde D. Scope" Kohlberger, 2012-2016; was the first male president to successfully serve two consecutive terms in COAI history. He replaced the in person fall & spring board meetings with an Internet program using on-line meetings; one of COAI's largest cost savings ever over the two terms. Glenn negotiated Clown insurance for COAI members that was not just equal to the competition but ended up becoming the leader because it was a better overall policy for our membership . It was directly responsible for helping turn around a 15+ year trend and instead increased our membership significantly. He helped bring Sammy and Laurel Smith into the COAI family as The New Calliope Editor and Business Manager a very positive move for COAI at that time. The addition of an electronic version of the New Calliope helped to make possible the new E-Memberships another positive step to new memberships. Glenn encouraged his boards to think out of the box which resulted in new programs like the E-memberships, using the Internet program for committees and E-Alleys, Membership Scholarships; a renewed Jr. Joey Program under Regina Wollrabe; A successful mentor program under Teresa Gretton; Taking back control of COAI Conventions and finally giving the entire membership the opportunity to vote on all bylaw changes, not just those at our conventions. He & his 14-16 board successfully led COAI back into the black more like a business rather than a club. 2016 was the first time COAI ran it's own convention in Las Vegas which was not only successful to our members it was financially successful as well. Finally setting goals to guide future boards to successfully represent our membership in positive ways because as Glenn always said, "without our membership; there would be no COAI."
Mike "Bonkers" Cox, 2016- Present