COAI Insurance is for Members of Clowns of America International only.
For more information on COAI Insurance
Call 800-518-5047
or Email: COAI@bbofpa.com
What is Very Exciting… is No matter when you sign-up for COAI Insurance you will get One ENTIRE year. if you sign up in August 2016 – your insurance is good though August 2017 or sign up in January 2017 your good through Jan 2018. You will ALWAYS get ONE ENTIRE YEAR of COVERAGE!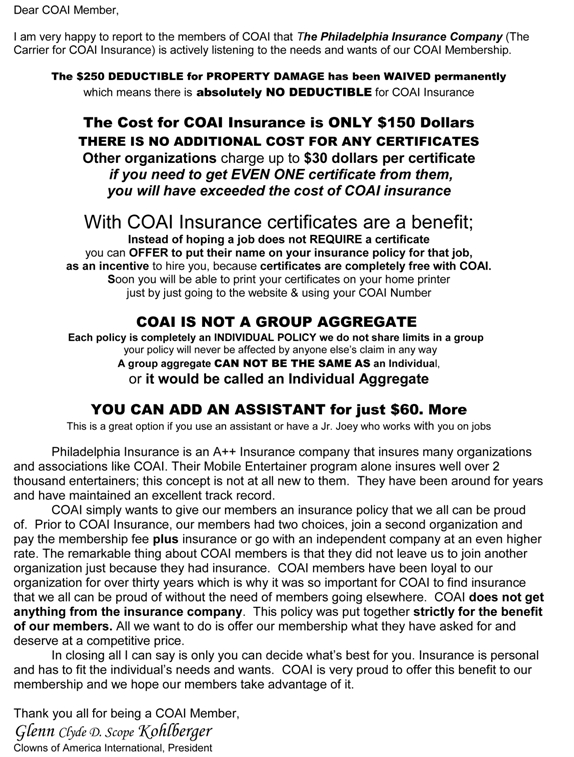 FAQs
If I sign up in October of 2016 will i get a full year of Insurance?
YES no matter when you sign up you will always get a full year of insurance (example: November 2016-November 2017 Jan 2017-2018)
How much is COAI insurance?
$150 dollars This is a performers package; for general Liability
Example for Clowns, Face Painters, Magicians, Santas etc
Our general Liability policy limits are $1M/2M or 2M/2M
(We can insure individuals, DBA's, LLC's, corporations or any entity and can also cover equipment.)
If ANOTHER PERFORMER has a claim will that affect MY insurance?
NO this is NOT A GROUP AGGREGATE, It is an individual aggregate, meaning if someone else makes a claim, IT DOES NOT AFFECT YOUR INSURANCE AT ALL.
​Is there an additional charge for adding additional Insures (Example adding a name on my policy for working a at mall or festival)?
You can add a venue, individual, family or any entity if required by contract; THIS IS INCLUDED – THERE IS NO ADDITIONAL CHARGE
What is the turnaround time?
Normal turnaround time is the same day. (In the near future you will be able to print out basic evidence of insurance directly from our website on your printer)
Who can get COAI insurance?
You must be a member of COAI, but it is open to Clowns, Santa's Magicians, Balloon Artists, Jugglers, Face Painters Storytellers, puppeteers, etc.
If I use assistants, can they be covered?
Yes assistants can be covered for an additional $60 each.
​How can we get COAI insurance?
First join COAI. We can take insurance applications over the phone, by email, or on our website. There is always a person available to talk about the coverage, the program etc. Office hours are 8:30-5:00 EST.
Is bodily injury or property damage covered?
YES, Any bodily injury or property damage to other peoples things is covered. There is NO DEDUCTIBLE on Bodily injury OR PROPERTY DAMAGE
For more information on COAI Insurance
Call 800-518-5047
or Email: COAI@bbofpa.com
to register for insurance online please visit: www.insurecoai.org